Shopping center

Milaneo Shoppingcenter, Stuttgart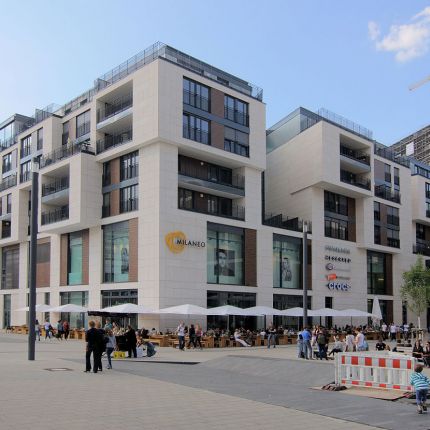 Opening hours
Monday:

10:00 AM - 8:00 PM
Tuesday:

10:00 AM - 8:00 PM
Wednesday:

10:00 AM - 8:00 PM
Today:

10:00 AM - 8:00 PM
Friday:

10:00 AM - 9:30 PM
Saturday:

9:30 AM - 8:00 PM
Sunday:

closed
Location and special features
With a sales area of 43,000 square meters, Milaneo in Stuttgart's Europaviertel district is attracting attention beyond the region. Only opened in October 2014, the largest shopping center in southwestern Germany is characterized above all by its rich range of goods and services. More than 200 stores, businesses and restaurants are located here, around 800 meters north of Stuttgart's main train station. The building complex also houses more than 400 apartments, a 165-room hotel and around 7,000 square meters of office space. As a special service, the Milaneo offers free buggy rental. The ultra-modern shopping center was named after its location, the neighboring Mailänder Platz.
Directions and parking
The Milaneo can be reached via the B 27, which runs directly past the center. There are around 1,200 parking spaces in the underground parking lot. Thanks to its downtown location, however, it is also worth taking public transportation. The U5, U6, U7, U12 and U15 subway lines at the Stadtbibliothek and Londoner Straße stops offer excellent connections to the Milaneo. This is also served by bus line 44.
5 Reviews
0711
|
rated with
18.08.2021 00:01
Leider absolut kein Alleinstellungsmerkmal. Gleiche Ketten wie auch im Gerber...
Anonym
|
rated with
06.04.2017 17:55
no comment
Anonym
|
rated with
06.04.2017 17:55
no comment
2 show older
Other shopping centers near
© 2023, Wogibtswas / Locabee. All brand names and trademarks are the property of their respective owners. All information without guarantee. Status 07.12.2023 01:09:54
UP
Choose your country and language